Leadership Lab For Students
Teaching critical thinking and leadership skills to high school students.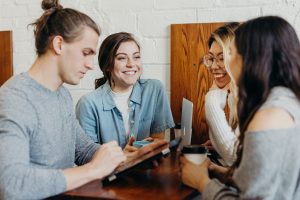 Frontline Academics hosts a new Leadership Lab session at Trinity College of Florida each Friday. We invite student leaders from local high schools to come and learn ground-breaking philosophies and practices about leadership from dynamic speakers and college professors. Each set of students will come for a Fall, Spring, and Final Session. The Fall Session focuses on critical thinking and problem solving, the Spring Session teaches introspection and self-care, and the Final Session invites every student in the program to come together for a large-format, cumulative session to show students how to apply these new tools to their current and future leadership roles.
Friday sessions will include 10-20 students from a given school with any school representatives that choose to join them. The students will participate in the Main Lesson which will include teaching and team-building activity. Then the students will be divided into two smaller groups for Breakout Lesson One before the one-hour lunch break (lunch included with registration). After lunch, we will hold Breakout Session Two and the Wrap-Up Lesson designed to tie together all three Lessons. Our goal is to be direct, encouraging, relevant, and engaging. These lessons are taught using the Socratic Method, which is shaped by the student's participation and developed through class discussion. 
We exist to honor God by developing unique and creative thinkers who will not conform to cultural or societal norms about leadership, ethics, or philosophy.
To create a new and radical trajectory for church leadership and Christian thinkers to bring glory to God through biblical ethics, advanced critical thinking, and daring vision.
Includes all 3 scheduled sessions
Trinity College of Florida
2430 Welbilt Blvd.
Trinity, FL 34655
All sessions are held on Fridays; 1 in the Fall, 2 in the Spring
All Sessions are held on Fridays
9:30-10:45am – Main Lesson One
10:50-11:30am – Breakout Lesson One
11:30am-12:30pm – Lunch (Included)
12:30-1:10pm – Breakout Lesson Two
1:15-1:45pm – Wrap Up
More Detailed Information
Leadership Lab offers three sessions per year at Trinity College of Florida: one in the Fall semester (Aug-Dec), one in the Spring semester (Jan-May), and a Final cumulative session (May). Each session follows the schedule below with one main lesson, two breakout lessons, and lunch. Each lesson will have a built-in time for practice and application. Our teachers provide interactive lessons that emphasize energy and engagement.
The Fall session focuses on Critical Thinking and Problem-Solving methods.
The Spring session focuses on Introspection and Self-Care practices.
The Final session focuses on applying the first two sessions to leadership scenarios.
Every student will receive a "Swag Bag" from

Frontline Academics

and

Trinity College of Florida

.

Students receive lessons from highly trained and seasoned professionals.

Students are exposed to a unique local college environment.

Every student completing all three sessions will receive a certificate for our leadership training program.

Every student who completes all three sessions will be eligible for a scholarship for their first year at Trinity College of Florida. 
Must be currently enrolled in high school (or home school equivalent)

Must be a current Junior or Senior in your high school

Must be approved by your high school to attend

Must be in-person for all sessions and lessons