Professional Development for Groups
Providing practical academic continuing education training for staff and faculty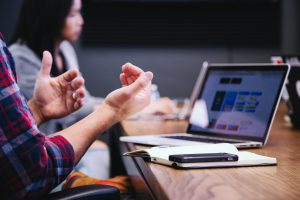 The goal of Frontline Academics is to assess where teaching and learning rhythms are now and to determine what changes will need to be made before they need to be made. While our educational philosophy does use best practices to understand the current educational landscape, it is not limited by what has worked in the past. Many times, educational institutions are either trying to stay on the "cutting edge" of pedagogy or are woefully behind the curve. Our objective is to avoid either extreme. Why? Because employing a new technology or teaching style too early can alienate your students and/or fellow faculty. Often, these approaches lack the proper support and longevity needed to avoid losing money and time already scarce in education. Similarly, we must avoid sticking with a "tried and true" approach for too long. While time-tested technology and pedagogy are reliable, they often fain compared to what today's students have in their pockets. Phones, tablets, and laptops are evolving quicker than we can keep track of and education needs to be pacing itself at a healthy but sustainable distance. This will require a commitment to improvement and a steady hand of patience from faculty and leadership.
Frontline Academics' Professional Development program focuses on engagement, excitement, and encouragement. That is because authors like Stephen Krashen write that students suffer from the effects of three primary "filters" that limit their ability to learn well: anxiety, motivation, and self-confidence. When the student is adequately engaged with the material, their anxiety is reduced. Also, most learners feel increasingly motivated when they are excited to learn. And finally, self-confidence is best developed through encouragement. These three learning barriers may be evident to the seasoned teacher, but many of us were not trained to identify such markers. Our program offers several methods of improving your in-class techniques that will benefit your students in countless ways. We also provide training for online course design and distance learning philosophies to enhance the teaching and learning experience. We must be striving to advance our understanding of technology and the ever-changing learning developments that come with it.
We aim to develop excellent teachers who engage minds, excite passions, and encourage hearts through informed didactics and creative pedagogies for God's glory.
To challenge and sharpen teachers to be their best to enrich our schools and glorify the Kingdom of God.
Includes 3 two-hour sessions
Your School, Office, or Institution
Based on your break and holiday schedule
Available Specialties To Choose From
Discussion-guided teaching based on questions and student engagement.
The ability to ask the right questions the right way to create lively classroom discussion.
The most effective methods for teaching asynchronistic courses.
Creating quality quizzes, tests, and exams that focus on effective questions and avoiding common mistakes.
Creating and managing a peaceful classroom with specific rules and procedures.
Intentional ways to keep the Word of God at the center of any course.
Using modern means to educate modern minds.
Controlling your emotions and those of your students.
How to capture and release your students' energy for everyone's benefit.
Suggested Topics Are Also Welcomed
More Detailed Information
We offer three standard options, but custom sessions can be created if desired:
One-Day Professional Development for Groups for $750
Choice of any three Specialties from the list above (6 hours)
Two-Day Professional Development for Groups for $1500
Choice of any six Specialties from the list above (12 hours)
Three-Day Professional Development for Groups for $2250
Choice of any nine Specialties from the list above (18 hours)
We offer this continuing education training multiple times each year depending on your group's availability:
Summer Break
Fall Break
Winter Break
Spring Break
More efficient teaching through discussion-based classes and modern approaches 

More effective learning focused on retention and engagement 

Strong and clear leadership that emphasizes people instead of policies